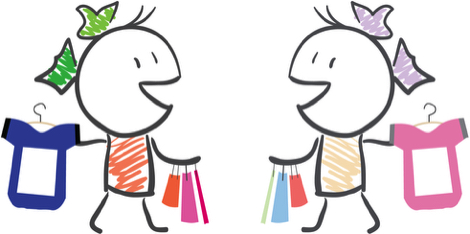 WE BUY ALL GOOD QUALITY RE-USABLE
T-shirts • Trousers • Shorts • Jeans • Shirts • Jumpers • Sweatshirts
Bras • Jackets • Flip Flops • Coats • Dresses • NEW Underwear
Dressing Gowns • Suits • Sport Shoes • Scarves • Baby Wear
Children's Wear • NEW Socks • Hats • Sports Wear • Men's Shoes
Women's Shoes • Boots • Slippers • High Heels • Handbags • Belts
Purses • Skirts • Leather • Trousers • Leather Tops • Jewellery &
Bracelets • Watches • Denim Tops • Swim Wear • Vest Tops • Lingerie
Teen Wear • Kids Jeans • Soft Toys
WE DO NOT ACCEPT
Clothing with signs of damage, excessive wear or tear,
Animal Hair, Dirt Dampness, Make-up stains, Stains, Rips/Holes
Broken Stitching, Bobbling, Deodorant/Perfume Stains, Worn/Aged or
Tired Looking, Missing Badges Labels or Buttons, Broken Zips or
Buckles, Affected by Smoke and/or Odour.
Frequently Asked Questions
We try and answer as many queries as possible in relation to the items we are able to buy. Please check our FAQ's below which will hopefully answer any enquiries that you may have - but if these don't provide the answer, simply contact us via email or call us on 08456010511 and we'll be happy to help.
What happens to the goods I sell?
All of the goods that are sold to Today OpenHere are either exported, recycled or reused.
Can I donate my payment to charity?
Yes. You are free to spend or donate your cash in any way that you see fit. After, all it is your money.
When do I receive payment?
You receive your payment immediately after our weighing process, with cash given directly to you.
How long does it take?
One of our friendly staff will sort through your items straight away, (on a first come, first served basis). We take your goods right there and then, giving you your payment instantly, on-the-spot!
Is there a limit to the amount I can bring along for sale?
We do not put any limit on the number of items that you can bring in, but we ask you to look at the list of acceptable items to be clear about what items we are happy to accept.
Does selling my items incur a fee?
NO, we make no charge for taking your items - quite the opposite, we pay you.
Some of my items show signs of wear and tear, will you
accept them?
As long as they are re-useable we are happy to accept items.
If you are unsure, our friendly staff will be happy to advise.

Maidstone: Unit 2, (between Church Street to Church Lane in Tovil Road), Maidstone, Kent ME15 6RB.

Hastings: Brook Way Business Park, Brook Way
Hastings, TN35 4NR