About Us
Here at ToDay OpenHere we offer you a service to make money out of your unwanted items and clothes.
We give you money on the spot (currently offering 60p per kilo, amounting to £6) for a standard bin bag based on a 10kg weight. We accept items you no longer require or use and in exchange we offer you instant money - making it convenient and easy for you.
Start making cash out of your unwanted items and clothing today!
If you also have any questions, feel free to contact us and we will be happy to help you.
Clothing should be modern, good quality, clean and dry, smoke & odour free, no tears, stains, rips, missing buttons or broken zips. Other items include belts, handbags, accessories, jewellery, shoes etc. Please check our lists (right) for items we do / don't accept.
We try to make it easy for you to deliver your goods.
Please visit us at: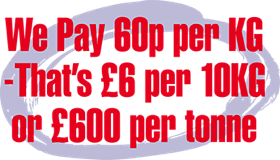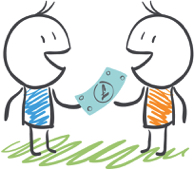 Maidstone: Unit 2, (between Church Street to Church Lane in Tovil Road), Maidstone, Kent ME15 6RB.

Hastings: Brook Way Business Park, Brook Way
Hastings, TN35 4NR
WE BUY ALL GOOD QUALITY RE-USABLE
T-shirts • Trousers • Shorts • Jeans • Shirts • Jumpers • Sweatshirts
Bras • Jackets • Flip Flops • Coats • Dresses • NEW Underwear
Dressing Gowns • Suits • Sport Shoes • Scarves • Baby Wear
Children's Wear • NEW Socks • Hats • Sports Wear • Men's Shoes
Women's Shoes • Boots • Slippers • High Heels • Handbags • Belts
Purses • Skirts • Leather • Trousers • Leather Tops • Jewellery &
Bracelets • Watches • Denim Tops • Swim Wear • Vest Tops • Lingerie
Teen Wear • Kids Jeans • Soft Toys
WE DO NOT ACCEPT
Clothing with signs of damage, excessive wear or tear,
Animal Hair, Dirt Dampness, Make-up stains, Stains, Rips/Holes
Broken Stitching, Bobbling, Deodorant/Perfume Stains, Worn/Aged or
Tired Looking, Missing Badges Labels or Buttons, Broken Zips or
Buckles, Affected by Smoke and/or Odour.